REPORT
Mass Marriage Ceremony Held on the 3rd of April 2005
at Fatehpura, Godhra, Gujarat
Conducted by
Guild of Service, New Delhi.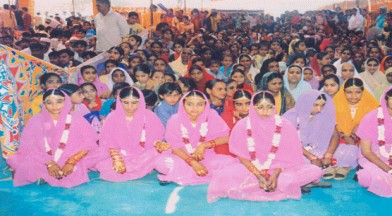 11 couples of the Muslim community were married on Sunday, 3rd of April 2005 at Village Fatehpura, Godhra, Gujarat. The Guild of Service has been organizing these Mass Marriage ceremonies for the last three decades in New Delhi to ensure an expense free, simple marriage so as to discourage the practice of dowry and to promote inter caste and inter community marriages.
This Mass Marriage ceremony was arranged at Fatehpura for the first time by the Guild of Service with an endeavor to promote communal harmony by bringing together various communities to witness this social event. In this mass marriage ceremony young men and women effected by the Godhra riots of 2002 got married. A crowd of more than 5,000 was present from all communities who came from 10 villages in the surrounding areas. All media persons from print and television covered the event. There had never been any event of such a scale in this village for a long time and various TV channels broadcasted the entire event live so that even more people were able to witness this indirectly.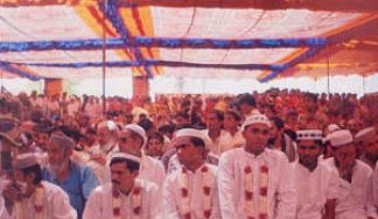 Thousands assemble for the Mass Marriage at Godhra.
The programme was initiated with a special prayer "Tilavat" which was read out by Maulana Hanif Manaz. Next the Guild of Service counselor Ms.Kalpana Bhongle welcomed all present at the ceremony. All the honoured guests were made welcome with garlands and requested to say a few words. Smt.Parul Devidas Joint Secretary WCD, New Delhi and Dr. Prabha Ben Taviyad, Congress leader District Dahod were the chief guests at the occasion.

Gifts being distributed by Ms. Parul Devidas Joint Secretary Women and Child Development, New Delhi.
The Chairperson of Guild of Service Dr.V.Mohini Giri then informed the thousands present of the women's empowerment and training programmes of the Guild of Service in Gujarat as well as in other regions across the county like in Kashmir, Mathura,Gujarat and also of the relief and rebuilding efforts in the Tsunami effected area of Tamil Nadu.
On this occasion she appropriately talked about the significance of communal harmony and encouraged all present to make efforts towards living peacefully. She gave her blessings to the couples who were previously victims of the riots and advised them to leave their past behind and now move towards a bright future.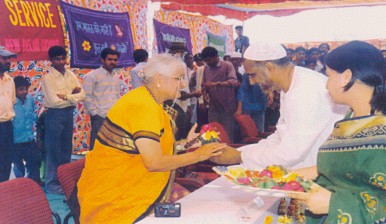 Dr.V.Mohini Giri presenting flowers to the distinguished guests
Dr.Giri also talked about how these brides, some trained at the Guild center, Apna Ghar are now empowered by the vocational training provided to them to support their families by starting up small business at their new homes.
Messages from Mrs.Sonia Gandhi, Rita Teotia, Joint Secretary, Health Ministry and Nafisa Hussain, Member National Commission for Women, etc.were read out.
Other officials and distinguished members of society present were Mr. Kishore Taviyad president of Dahod District, Dr. Ashwin Pargi - Sarpanch Fatehpura, Mr.Amin Seth - Trustee Islam Relief Committee, Isak Bhai Patel, Social Worker Fatehpura and Abdul Sattar Patel - President Muslim Samaj Fatehpura. They all addressed the gathering and directed their good wishes towards the couples.
During the marriage ceremony the Nikah was read out by Moulana Abdul Gani Gudala and each of the grooms were requested to read their wedding vows as per Muslim Traditional rites.
Then Ms.Vimla Pant counselor Guild of Service read out the items to be distributed to the couples to begin their new lives together.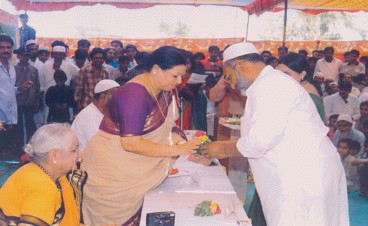 Ms. Meera Khanna gave the vote of thanks. She thanked everyone for their presence, contributions, and organizational efforts at this rare occasion where thousands were brought together to witness this historic event.
The entire marriage ceremony was conducted by the voluntary efforts of sensitized people who contributed both in cash and kind to ensure an auspicious beginning for these couples. Finally the marriage certificates were distributed to the couples and gifts worth Rs. 8,000 were given by Guild of Service to the newly weds so that they could start their new lives together with few gifts and some essentials.
return to top
return to widows international