The Dark Reality
By Malathi Rangarajan
Wednesday, Aug 18, 2004
Reprinted with permission by The Hindu (www.thehindu.com)
Dharan Mandrayar's film "White Rainbow" on the sufferings of the Vrindavan widows tugs at your heartstrings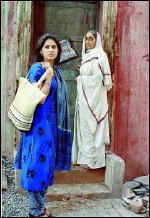 Sonali Kulkarni at her expressive best in "White Rainbow"
EARLY THIS year when Dharan Mandrayar was in the Chennai for the post-production work of his latest film, "White Rainbow," he recounted with awe, the social work of V. Mohini Giri, chairperson, The Guild of Service, especially with respect to widows. "I sought her help for inputs for my film, because she runs a home for widows in Vrindavan on whom my film is based. She's amazing ... that's why I've named my protagonist Priya Giri," he had said. So when the Duchess Club planned to hold a screening of "White Rainbow" (a bi-lingual in English and Hindi) in the presence of Mohini Giri and follow it up with an interactive session with her, the proposition sounded interesting. It was. If the film left you with a heavy heart, Mohini's dynamism and her concrete steps to bring succour to the socially ostracised women of Vrindavan, rekindled your faith in humanity.
Dharan is the nephew of veteran actor Sivaji Ganesan and "White Rainbow" is his third film. Though his home is in Bonsall, California, coming across a lesson in his son's book, about the plight of widows in Vrindavan, he travelled all the way there to learn the truth. Shocked at the inhuman treatment meted out to these hapless women, Dharan and his wife Linda decided to make a film on the subject. "The intriguing title is to point out that these women in white, living in Vrindavan, actually have all the colours of the rainbow within them ... "
The stigma
"Why only in Vrindavan?" began Mohini. "A woman who has lost her husband is considered inauspicious, even among the so-called refined lot in the cities. The degrees vary, that's all... "
The stigma makes you sick. That it is still being followed in a progressive society makes you ashamed. And watching "White Rainbow" leaves you appalled. Vrindavan, which now has the disconcerting tag, City of Widows, going with it, has 16,000 suffering widows. And set in the backdrop of the place, "White Rainbow" showcases the life of four husbandless women cast aside by their families.
With grit and determination Priya Giri, a young widow herself, tries to empower the women and lead them towards an independent life. Dumped at Vrindavan by their own families and shorn of all dignity, the widows of Vrindavan are abused physically and mentally. They sing bhajans at the ashram from morning till evening for just Rs.2 a day, work for the priests and Pandas, and end up as prostitutes, exploited by men from whose tyrannical hold they find no escape.
Sonali Kulkarni heads the cast as Priya. With a countenance that lends itself to myriad emotions she displays agony, joy, hope and despair in effective measure. Roop, an intelligent widow, is a character ably portrayed by Amardeep Jha, who made an impression as Kalibabu's mom in "Devdas" and "Satya." Shameem Shaikh whom you last saw in "Chandni Bar" is the psychologically battered and physically bruised Mala, in "White Rainbow." But the girl who tugs at your heartstrings is Deepti, the 15-year old widow. Her innocent face so filled with fear haunts you long after the film is over. A commendable performance by Amruta Subash! All three actors are from the National School of Drama. The film is poignant though it has a docu-feel about it and sometimes the scenes end abruptly. But the positive signal that it sends is comforting.
The session that followed had Tamil writer Sivasankari and Mohini Giri answering posers from the all-women audience. "I've nothing to say. You've seen it all and the atrocities you saw are real. They are still happening. Vrindavan is a city that has more widows than temples ... " said Mohini who runs four homes for widows in the North. She went on to narrate some of the gruesome stories of widows affected by the militancy in Kashmir. She has a home for them too.
Empower women
"Each one of you can make a difference, if you want to. Begin at home. Educate your men about the importance of respecting women and giving them their due. Empower your daughters and others' if possible so that they would be economically independent to face the future with courage ... " Mohini Giri's voice rings in your ears. And so does the background score of "White Rainbow". Michael Mason, whose filmography includes "Bruce Almighty," "Spy Kids" and "Scorpion King" is the composer. "Jai Jai Maa ... " is the song you hear when the credits roll — it is ironical that in a country which deifies the woman, she is also treated like the scum of the earth ...
return to top
return to widows international