Movie about Vrindivan Widows to Debut in Cannes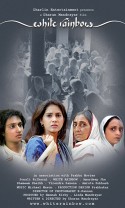 Dr. V.Mohini Giri and Dharlin Entertainment join forces to create a dramatic story tracing the journey of a suddenly widowed young Indian woman as she tries to understand the lives of her sister widows in Vrindivan. The film reveals the terrible destiny of the widows of Vrindivan and the cultural and spiritual implications for the treatment of widows in India. GriefandRenewal.Com helped tp bring together Dr. Giri and Dharlin Entertainment. A gala event and reception for the movie and all involved will take place in Los Angeles on April 18 before the film goes to Cannes. Proceeds from the film will go to support the Guild of Service.
In White Rainbow a privileged young woman, Piya is widowed without warning. The trauma causes her to miscarry her baby. In her grief and search for solace she makes a pilgrimage to Vrindavan, the City of Widows. There she befriends three widows and learns of their own harrowing stories. There is Roop, abandoned by her children and left alone on the streets of Vrindavan. There is Mala, disfigured by her mother-in-law and abandoned who becomes a servant and illicit lover to a priest. And then there is Deepti, widowed at 15 and forced into prostitution. In challenging the myths and traditions surrounding widowhood in Indian society, including the widows resignation to her own fate, the 4 women become champions of their own lives.
In story form this movie reveals the appalling truth of the lives of women who because of an event over which they have no control loose everything and are plunged in to a life of destitution from which they have little hope of escaping. White Rainbow returns the colors of the rainbow to the lives of these women and seeks to bring attention and help to the vast numbers of widows not only in Vrindavan but throughout India. On a larger scale this movie highlights the plights of women throughout the world who loose their rights and personhood when their husbands die.
Dharlin Entertainment, located in Bonsall, California makes films for a global audience that enlighten the world to the diverse traditions and cultures of India and Southeast Asia. They work with production companies in India to make quality feature films. White Rainbow represents a departure for them in that it is their most aggressive movie to date, due to the nature of the subject.
Darhlin Entertainment contacted GriefandRenewal.Com and they were encouraged to contact Dr. V. Mohini Giri to learn more about widows in India and about the Guild of Service. They did and formed a working partnership with Dr. Mohini and the Guild of Service. Now the film is going to Cannes where the plight of widows in India and throughout the world will receive broad exposure. We are hoping to screen the film in New England following its first screening in Cannes. Look forward to hearing more about this remarkable creation and exemplification of becoming the change you want to see in the world. For more about White Rainbow go to the following link: www.whiterainbow.com. For more information about the Guild of Service contact them at: gos@bol.net.in.
return to top
return to widows international