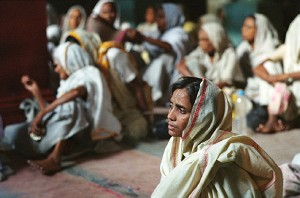 Waiting For Salvation
by Karijn Kakebeeke

Reprinted with permission of the author. Copyright belongs to the author. This article can not be reprinted without express permission from the author.

Evicted from their home or with no other place to go to, many Indian widows leave for the holy city of Vindravan to never return. As a place where charitable institutions provide them with a means of living, places like Vindravan have become India's modern answer to sati, the funeral pyre on which widows were thrown in former times. Today however, it is no longer only widows who come to Vindravan.

"Are you going make me dream? What will it do?" asks the woman who is dressed in white and crouched barefoot next to a pile of cow patties, her skin thick like leather and wrinkled before it ever reached old age.

It's

a hot month in Vindravan -- a small town about three hours on the road from Delhi to Agra -- the sweltering heat brooding on its presence since the early morning hours, pressing against your skin like a hot oven glove. A wind of the finest sand blows through town here in the evenings, leaving the leaves on the trees a dusty green.

From a distance away, where all you can see is the top of the temple tower, you can hear the melodic hymn of women's voices, it's tune made rhythmic by the beating of the kirtan. As you come closer the singing intensifies, drowning out all other sounds until you reach the ashram. There, through the open doors and through the windows covered by iron bars with its mosquito wire gauze's in front, you see them sitting. Hundreds and hundreds of women dressed in white.

Every day at six, before the sun is fiercely blazing and before the town's dogs have let out their first morning barks, you see them. They leave their homes and make their way, shuffling forward at a foot pace, towards one of the eight ashrams -- religious, charitable institutions set up some 80 years ago by a rich philanthropist to accommodate the many women in town. It is here, in two different four-hour shifts in the morning and afternoon, that they sing

the bhajans -- devotional songs -- to earn them a daily five rupees (0.09€) and an occasional handful of uncooked rice. For eight hours of the day, they are kept inside the ashram's big halls, with just a stream of light peeping in through the windows and ceiling, lighting up only the area where they sit. They are wearing white cotton saris, washed so often that they appear translucent and grey. Some with their heads shaven, some so old and shrivelled up you wonder whether they can ever unfold again. Who are these women and why are they here? These women are waiting for Moksha, or salvation -- which, for some, can take as long as a lifetime. These are the widows of Vindravan.

Vindravan, despite its size of 55,000 inhabitants, attracts more local tourists than Agra, birthplace of the famous Taj Mahal -- India's equivalent to the Eiffel Tower for France. Vindravan is the holy town of Krishna, the place where in his adolescent years he flirted with his gopis in the forest next to the riverbank. Today there is hardly any forest left, but that means little for the importance of the place. Vindravan is home to more than 4,000 temples, making it one of India's holiest cities. It is also home to some 10,000 widows.

Nirmala

Saha is a widow who was married at the age of eight, her husband being then 33 years old. "Before I was old enough to understand anything, his beard had already turned white", she says. She sits, aged 70, poking pieces of wood and carton underneath a clay cooking pot placed on a redbrick stove. She was widowed at the age of 23 and has been in Vindravan ever since. She pulls the end of her white sari over forehead and says with an air of faked indifference; "I'm not interested in anything anymore, who cares when one loses a husband?"

Nirmala came to Vindravan because she had no other place to go. She came here, to spend the rest of her life. Like most widows at Vindravan, she was evicted from her home.

Others,

in order to prevent this same fate, choose their eviction themselves. They leave for holy cities such as Varanasi, Puri or Vindravan. Some, unlucky enough to have become widows when they were only children, having lived here for over 50 years. Chanting the bhajans 8 hours a day, 7 days a week and 365 days a year.

The problem of widowhood starts with gender itself. A daughter in India is not for keeps, she is what is called 'Paraya Dhan', or someone else's property. As she marries, she becomes the property of her in-laws family and when the husband dies, it is them who can decide what to do with her. "If the husband dies and there is property, the family in law will be inclined to throw her out because of it. If she is young, because she poses a sexual threat", says Deepali Bhunot, co-author of a study on the widows of Vindravan.

"Most

of us don't get told to leave directly", remarks Mamata Majumadar, a widow of 68 of age stoically. "It will happen more subtly. For example my brother in law would tell me that he could rent out my room. He would tell me that I can sleep on the veranda since I don't need much space anyway."

The way in which Mamata tells her story is typical for many women here. They talk in a manner that gives away very little about themselves. As if their own emotions are unimportant, as if they don't exist.

There are 33 million widows in India, it being the country with the largest recorded number of widows in the world. 54% of women over 60 are widows, as are 12% of women aged 35-39*.

"According to the Hindu religious texts, the father is the head of the household," says Jyotsna Chatterji, Director of the Joint's Women's Programme (JWP), an NGO working on the empowerment of women. " The woman is a wife, a sister, a daughter and mother and is dependent on the man in the family. Without a man, she is nothing. Widows just don't have a place in this society."

A

widow, in fact, is seen as a woman who failed to safeguard her husband's life. As her presence is thought to bring bad luck, she is kept away from all important ceremonies and festivities. Often her head will be shaven, her bangles [bracelets] removed and must she go dressed in white garments. These stringent social customs are especially observed among the upper castes. And most women here are higher caste.

But as times change, and India moves towards modernity, Vindravan is no longer only attracting widows. The charitable institutions in Vindravan also start to attract many destitute women and single mothers. Moreover, the present rise of Hindu fundamentalism in society is pushing society further back into the traditional Brahmanic [the highest caste in India] caste structure. This in combination with new Western values coming into the country makes that a lot of women do not want to comply with this traditional gender role any longer.

Radha

Dasi, 46, is one such woman. Her six sisters are all unhappily married, making her decide to never do the same. Having heard of Vindravan as a place where she could survive, she left her hometown and came here 9 years ago. Also dressed in white, she simply joins the widows at the ashrams and chants alongside with them. Outside marriage, Vindravan is the only option to an independent life for women like Radha.

Like Nirmala, Radha lives in a rented room, for which she pays 150 rupees a month (3€). The rooms, without any windows, are tiny, dark, humid cells. Their landlord says the rent is kept low because this is a religious place, where his forefathers established a temple shrine inside the confinement of the building complex. He does not mention that if Radha or Nirmala use any electricity, they are to pay double the monthly rent.

Lakshmi Chakrabarty came to Vindravan two years ago. She too was never married and with 45 she looks young but unmoved. "I wanted to travel so I never wanted to get married", she says. "My father and brother took care of me, but when my brother was getting married I came to Vindravan. He tried to force me to sign a paper giving my part of our family house to him. I refused but couldn't live at home any longer. Yes, we should get paid more at the bhajanashrams, but at least I am living in peace." Dreaming about travel is a thing of the past.

Some

women hold small jobs outside the ashram, the fact that they earn an income outside of the wages received at the ashram, being an exception rather than the rule. Most women are entirely dependent of the bhajanashram. Widow pensions are available but eligibility excludes many and unawareness exempts even more. Many younger widows and young single mothers are lured into sexual services in exchange for lodging or food and others beg to make ends meet. "Yes, begging is one of the options, we are not going to steel" remarks Draupadi Chakrabarty, a widow of 60, dryly. The question of how she feels about this, she doesn't answer. She shrugs her shoulders, her expression revealing that this is a topic she doesn't want to be reminded of.

Many widows and women alike will have heard from Vindravan as a home for widows, of a place of religious solace and a place where they can independently survive. But this is indeed the only thing that Vindravan has to offer -- religious survival.

There

is one place in Vindravan where the attitude towards widows is not based on lifelong tradition and the maintenance of the status quo. This is Amar Bari, a widow home set up by Mohini Giri, founder of the Guild of Services, an NGO working for widows, and former chairperson of the National Commission for Women. She is the person who put widow's issues on the political agenda for the first time. Herself a widow, it is her aim to empower the widows, providing them only with colourful saris and prohibiting them to attend the ashrams that, in her view, exploit women. Amar Bari also offers vocational training to the widows. "Widows wánt to get empowered," she says with a certainty that allows no contradiction. "The circumstances are not there for them but when we create them, the widows will jump at them." But is it also true? Do the women at Vindravan aspire to a different life?

Devirani Majumadar has lived at Amar Bari for 13 months, having lived at another widow's home before. She is 80 years old and large eyes mark her thin frail face. "I used to have beautiful long hair, but the beauty of a woman is for the husband only", she tells, the veil of her white sari revealing a tiny corner of the stubble of her shaven head. "Here they keep on giving me colourful saris, but I prefer white," she adds. "Remarriage?" She repeats the word as if it is an ugly one, then sticks out her tongue and chuckles, "Remarriage is a bad thing, what would people think?"

And

this is precisely what keeps the steady flow of women at Vindravan coming. For in rough terms, customary and statutory laws in India give women and widows certain rights but in actual practice very few of these rights might be effective as women are not empowered to assert to them or fight for them.

Indeed, even though Devirani's views may be attributed as being traditional due to her old age, many widows in Vindravan share them. Many women do not wánt to work because caste customs do not allow it. The same can be said about remarriage, which, though legal in India, is still frowned upon by and large. These attitudes cross the barriers of every age group. Take Rohini Roy, a widow of 45. Married at 14, she became a widow four years later. Rohini never worked in her life, and even though she is not receiving a widow's pension and can barely survive on the 150 rupees (3€) she receives from the bhajanashrams each month, she prefers to skip a meal instead of finding herself a job. "I'm a Brahmin", she says in a soft subdued voice, "its very difficult for me to do the dishes or the cleaning for someone else, I would prefer not to eat." Or take Krishna Dasi, a young woman of 35 who lost her husband 2,5 years ago. "I don't ever want to remarry", she tells. "The rest of my life belongs to God and that is not something that is up to discussion or can be changed. Time will pass. My future is what God wishes."

But what about their own wishes? They may no longer be subject to the whim of their in-laws, but their dependence on the ashram sets them a far from free. These women do not have any dreams left and don't even know what it is to aspire to a different life. They lead a life of resignation. Most cannot even answer to the simple question of whether they like to live in Vindravan. "I'm just living", says Shanti Chandra stoically. Many will tell you that they enjoy the spirituality of Vindravan, but will also admit that without the daily 5 rupees they receive at the bhajanashrams, there would be little motivation left to come.

"Of

course the 5 rupees we get for eight hours of chanting is exploitation, even beggars don't accept that nowadays", continues Shanti. "I would still come", interrupts another woman, "what else is there to do? That is the life of the Indian widow, that is the way it is."

And that is the way it will be. "An Indian woman", as Urvashi Butalia, founder of the first feminist publishing house in India says, "is not trained to lead an independent life or to make independent choices. The fulfilment of life or the ultimate goal in life is marriage. When this fails or ends, the resources one can fall back onto are very meagre. That leaves nothing but to turn to God."

* Figures from the 2000 United Nations Division for the Advancement of Women.

return to top
return to widows international main page

Copyright information:
All written work on this site is copy righted and reproduced by permission of the author. The articles on this site may be shared for informational purposes, but cannot be reproduced for publication and monetary gain.