Book & Media Reviews (Archives)
Books are one of the best places to find the information and support you are seeking to help you cope with your grief and begin to rebuild your life.
If you decide to order one of the books listed here in the Book Review Section, please consider doing it through the Grief and Renewal link to Amazon.Com. By going directly from the book on this site to the book on Amazon's site and ordering you will also be helping to support Grief and Renewal.com.
Our goal is to be able to generate funds to donate to Empowering Women in Development and thus reach out in hope and caring toward others whose loss is even more devastating than our own. Thank you!
---
Life After Loss: Conquering Grief and Finding Hope
by Raymond Moody Jr., M.D., and Dianne Arcangel
HarperCollins Publishers Inc., New York, NY 2001
ISBN: 0-06-251729-5
pp. 228
Reviewed by: Sarah Tuttle, 12-5-2005
[Order from Amazon.com]
In their book, Life After Loss: Conquering Grief and Finding Hope, Dr. Moody and Dianne Arcangel present a text devoted to the explanation of grief. Their topics range from grief's causes and effects to different methods of dealing with the loss of a loved one. For anyone looking for a straightforward and faith-based read to help ground them in the basics of grief, this book will prove a very useful resource.
Life After Loss: Conquering Grief and Finding Hope offers one main theme: no one is immune to emotion. Those feeling alone in their grief may find solace in this message, as well as in the author's clear recognition of the individualized process of grief. Some excellent advice can also be found in these pages for those who do not know how to aid those around them who are coping with grief.
For those overwhelmed by the emotions of grief wrap this book provides very clear examples of how to identify the signs of grief, and warns against the dangers of not dealing with this powerful emotion in a healthy way. Although the authors throughout the book emphasize therapy as the most effective way to deal with grief, they offer other resources as well. One of the assets of this book is the thirty-six page compilation of works and organizations specifically geared towards coping with grief. A large portion of these resources are categorized by the cause of grief. For instance, an individual suffering from the loss of a child could turn to this section of the book, and immediately find a list of over fifty resources geared specifically towards this subject.
However, some readers may also find themselves frustrated by the tone in which the authors write. The authors' selection of phrasing and presentation feels over-simplified, as though they doubt the reader's ability to truly comprehend the subject at hand. Topics are not explored in depth; rather a brief definition or description, usually not more than one paragraph in lengh, precedes a reality-based story that deals with the subject discussed. While these stories help the reader to relate to the topic at hand, they too would benefit from more detail.
Nevertheless, the direct style of the authors may be refreshing, since the reader does not have to wade through heavy medical terms to understand the meaning of the text. For an individual just beginning their quest to resolve or cope with grief, this book is an excellent springboard off of which to embark upon further research.
---
KOPE Associates:
Mourning Has Broken - A Collection Of Creative Writing about Grief and Healing
Foreword by Alan Wolfelt, Ph.D.
Reviewed by Cynthia Gasner
Anthology about Grief and Healing
By CYNTHIA GASNER Special to The CJN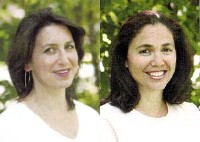 Mara Koven and Liz Pearl

Mara Koven was mourning the sudden death of her 39-year-old husband and Liz Pearl was grieving the loss of her maternal grandmother when they decided to harness their pain in a creative way.

At a kickboxing class, Pearl approached Koven and said, "I know you must be going through hell, but I think I have an exciting project for us to work on that may be worthwhile."

From there, Pearl recounts, they went on to co-edit and publish Mourning Has Broken – A Collection of Creative Writing about Grief and Healing.

The anthology contains 50 original submissions about healing from the pain of losing a loved one. The writers share their thoughts and make the reader cry and laugh, but they always express their inner strength and insights about coping.

Pearl, who specializes in psychogeriatrics, expressive art therapies and adult education, says that she and Koven "firmly believe that creative writing can be an expressive and therapeutic medium of healing from grief."

The book includes submissions from Canada, Australia, Costa Rica, Holland, Israel and the United States. The authors, Pearl says, are mothers, fathers, wives, husbands, siblings, children, friends and caring citizens.

The book also includes a range of writing forms, including narrative, poetry, song, prayer, letters, lists, journal entries, eulogies and obituaries.

"Bereavement is inevitable to the human experience, so the creative healing process is potentially universal," says Koven, a writer whose post-graduate studies were in journalism and Jewish communal studies.

"Many of the people who submitted their works said, 'Even if you don't publish my work, I am eternally grateful for the opportunity to have participated in this valuable process.'"

Pearl adds, "We were able to learn from the grief of the authors, who bring support and solace to others. And although we're based in Toronto, we succeeded in reaching out to many internationally renowned bereavement professionals, including Rabbi Dr. Earl Grollman, Reverend Dr. Richard Gilbert and Dr. Darcie Sims."

Longtime grief counselor and educator Dr. Alan Wolfelt of Fort Collins, Colo., who wrote the forward to Mourning Has Broken, notes that story-writing and storytelling help the healing process.

"Tell the story of the death and you begin to acknowledge it," he writes. "Tell it 10 times and you begin to let it enter your heart. Tell it over and over and you find it becoming part of who you are."

Elsewhere in the book, Dr. Edward Pakes, a psychiatrist in Toronto who has worked with many bereaved individuals, defines mourning as "the active, deliberate process of digesting the indigestible grief after bereavement."

Pakes writes that he hopes readers will be partially healed by reading what contributors have written about their own experiences.

KOPE Associates – "KOPE" being a play on the word "cope" that's incorporates the first two letters of "Koven" and "Pearl" – has published a limited first edition of Mourning Has Broken, which is available at several local book stores, including Caversham Booksellers, Parent Books, Israel's and Negev Importing.

Pearl and Koven are currently completing the research and editorial work for their next collaboration, a collection of original writing by stroke survivors. The book will be released in June.

For more information on Mourning Has Broken or the new anthology, e-mail lizpearl@sympatico.ca.
---
The Moon Came Down on Milk Street
Written and Illustrated by Jean Gralley
Henry Holt and Company, New York 2004
Reviewed by: Laura Slap-Shelton, Psy.D.
In a time of natural disasters, wars, and security alerts parents might well wonder how to talk to their young children about the scary things they see and hear on the news. The Moon Came Down on Milk Street is a wonderfully illustrated picture book which will help. Jean Gralley who has studied children's books and illustration with Maurice Sendak, has created a wonderful book which gives the reassuring message to children that we all help each other through bad times and that the adult world can fix things and make the world a safer place.
The story begins with a special TV report: the moon is slipping out of the night sky. We see it lightly skimming the tops of tall buildings, slipping past windows, and resting in pieces on a city's streets. The story asks, "Who will make this right again?" Helpers of all kinds come from every corner, each answering, "We will!" The child reader will relate to the helpers who are illustrated as children thereby providing an empowering message which states that there are adults who will help but that children can be helpers too. This provides children with a sense of control as well as security. The illustrations depict a festival of cooperative activities: roping, pulling, gluing, and hoisting as fire fighters, doctors, nurses, police, rescue workers, and even helper dogs join in the effort to restore the moon to its rightful place in the night sky.
The soothing ending in which the tired helpers are "good-nighted" one by one, will help the worried or concerned child to feel ready to slip into dream time as the story ends.
In these scary times the fear of something bad and terrible happening to family, friends and country lurks just beneath the surface of our daily lives. Children also suffer these fears, although they may not state them explicitly. Often signs of their concerns can be found in their play, drawings, sleep patterns and other behaviors such as excessive clinging to a care giver or aggressive acting out. It is important for the adult world to be aware of and respond to the unvoiced but realistic concerns of the children. One way of helping children is to acknowledge the realities they are responding to but to shift their attention from what could go wrong to the many people who help when something does go wrong. This "we can do it" message helps to shift fear to optimism.
The illustrations in The Moon Came Down On Milk Street are colorful, comforting, witty and appealing. This is the kind of book that a young child will enjoy reading again and again!
---
Brick Lane
by Monica Ali
Scribner
New York, New York
2003 (Double Day) pp.415
Reviewed by: Laura Slap-Shelton, Psy.D.
Brick Lane by Monica Ali is recommended here as a book that describes the lives of two women as they come to terms with the contradictions of cultural and religious expectations and their own strivings for personhood. In this wonderfully written and award winning novel we follow the lives of two Bangladeshi sisters whose response to arranged marriage leads them down different paths.
When their father arranges marriages for the two sisters, Hasina disobeys, runs away with her lover, and marries him. Nazneen bows to tradition and is flown to London where she is married to a much older man and lives on an 'estate' for immigrants. The novel parallels their lives and provides a remarkable contrapuntal portrait of the psychological and economic struggle for selfhood both women face. Hasina's life takes a harsh turn when her husband becomes abusive and she runs away, thus becoming a single woman in a country where there is little protection for single women. The plight of widows and women who are not wanted in the families they have married into is panoramically portrayed in Hasina's letters to her sister in London.
Nazneen's ostensibly more traditional journey as she fulfills the duties of mother and wife, takes some unexpected turns as she comes to find her inner world and the larger world that exists both outside of herself and the estate. Through Nazneen the reader is shown the process of self-discovery of a person who has been taught that they have no choice in their life but to obey family, husband, God. Through Hasina the reader shares external discoveries about the place of women in the Bangladeshi social order and the lack of legal protection and justice that exists for women there and in similar cultures.
In providing this double image of the sisters' development Ali creates a complex and complete vision of the status of women in developing countries and where their quest for self-hood may eventually take them. Brick Lane is richly painted and is rewarding on many levels. Once engaged in the lives of these remarkable women, the reader will not want to stop reading until the end, and even then will be reluctant to put the book aside.
---
Making Loss Matter: Creating Meaning in Difficult Times
by Rabbi David Wolpe
Riverhead Books, 1999, 221 pp.
Reviewed by Kimberly Ross Largey
7.9.2004
Making Loss Matter: Creating Meaning in Difficult Times is a book that readers will find useful in more than one situation. The author, Rabbi David Wolpe, draws from personal experience, biblical stories, western philosophy and literature to lay out a road map for the reader which will help them navigate and survive the difficult path of personal loss. Whether it be the loss of dreams, faith, home, love or life, Rabbi Wolpe urges us to embrace the stinging pain of loss (in all its forms) and seek out the meaning which hurt can bring.
This final version of Wolpe's book came about after his wife, Ellie, was diagnosed with cancer. He admits that he felt his "life was suddenly full of shadows", as he faced the possibility of a life raising his daughter alone. Ellie did survive, but in the end her illness helped the Rabbi to realize that life's inevitable downs and losses must be faced with courage and love - only then can the strength and hope rise from the soul of the pain.
This is just one example that Rabbi Wolpe uses to illustrate his ideas on the difficult concept of what loss means. He further investigates how the loss of dreams and faith can be just as frightening and disconcerting as experiencing the loss of a loved one, a home (emotionally and literally), or loss of self. This book encourages its readers not to turn their backs on loss but embrace it. Making Loss Matter will appeal to people of all faiths, as well as those curious about what it means to live a full life while being conscious of all the things that come with it.
---
The Life and Death of Charlie St.Cloud
by Ben Sherwood
Bantam Books
New York, New York, 277pp.
Reviewed by Kimberly Ross Largey
5.3.2004
There are countless questions about what happens to us after we die. Is there a heaven? What does it look like, feel like, sound like? Are we re-incarnated? Can we do the same things we did on Earth? Can I still eat my favorite coconut ice cream there? Well, if I were a character in Ben Sherwood's The Life and Death of Charlie St.Cloud I might. This is a work of fiction that combines many of the ideas on life after death we've heard about for ages, but Ben Sherwood focuses less on the great beyond and more on what the dead can teach us about living.
Charlie St.Cloud is a man who should be in his prime; an attractive, twenty-something, with a good heart and great intelligence .The novel begins where Charlie's life was put on hold-- the tragic death of his younger brother Sam. Strongly bonded by their love of the Red Sox, Charlie and Sam were returning home from a game in Boston when they are hit by a drunk driver. Charlie should have been dead, but was spared at the last second, trapping him between the living and the spirit worlds. This is what makes Charlie special—this experience has left him with the ability to communicate and see the recently deceased. It also allows him to hold onto Sam forever if he chooses. Charlie's unfettered dedication to Sam puts his life in limbo. He takes a job at the local cemetery to remain close to him, never straying far for fear that Sam will disappear forever. This is also where Charlie's work as a liaison to the other side comes into play given that he can see and interact with both the dead and the living.
It isn't until Charlie meets Tess, the local untamed beauty who is training for her first solo sailing race around the world, that he is shaken out of the isolated world he has created for himself and for Sam.
By transcending the normal boundaries separating life and death, this story tells its readers that life is ultimately about choosing present love of what and whom you have over living in a past that you can never retrieve. This story's heart-warming characters pull you into their struggles and uplift our hearts in the end.
Publishers Note: I walked into a book store in Edgartown on Martha's Vineyard on Memorial Day weekend and saw The Life and Death of Charlie St. Cloud prominently displayed this book, with a fond note highly recommending it written by one of the staff.
---
Searching for a Mustard Seed
By Miriam Sagan
Quality Words in Print
Costa Mesa, California 2003, 207 pp.
Reviewed by Kimberly Ross Largey
4.11.2004
In the beginning of Miriam Sagan's memoir, Searching for a Mustard Seed: One Young Widow's Unconventional Story, she tells the story of her life and marriage to a dying man. Struggling with Colitis her husband Robert, a Zen priest, slowly declines in the quiet of their Santa Fe home while Miriam's own struggle to keep her family and her sanity together swirl around the nebula of his terrible illness and deteriorating condition. As the disease takes over his body, Miriam becomes the sole provider for Robert and their young daughter Isabel, leaving her little time to care for herself and to deal with the pain, loss and frustration that she confronts everyday during this difficult period.
It is not until after Roberts's death that she has the time or state of mind to construct a narrative of her own and come to realize how her life has changed. In the introduction to her book she tells the reader about her search for literature that would aid in making sense of her experiences, but surprisingly she found very little. She states:
"I wrote this book to tell my story. I wrote it because my contemporaries will not live forever and because grief is either a path we have trod or will have trod. I wrote it so that some woman like me might find a friendlier book on the shelf."
Her story is honest. It doesn't sugar coat her thoughts, feelings or experiences on her marriage, her husband or her situation. She shares her ugly parts and her confused and frantic thoughts. Very soon after her husband's death, she questions how soon she can date again and gathers the opinions of her friends and relatives on the idea of her remarrying. She undoubtedly loved her husband very much, but she also refuses play the role of mourning widow forever. Her main objective in the telling of the interactions and thoughts like this one is to remind the reader that, "...[We] are not alone in the experience of death or widowhood or pain."
Miriam Sagan's family and friends play a large role in her story of recovery from loss and the rebuilding of her shaken life. She and her daughter jet off to Korea to stay with her best-friend Kath, who helps her simply by providing an exotic escape for her and allow her to fulfill her "first act as a grief-stricken widow" and start traveling more. There is an endless stream of visits and interactions in the months after her husband's death from a wide variety of unconventional friends including Buddhist monks, her husband's students, ex-lovers (including the man she eventually marries), bodybuilders, artists and writers. She speaks of each one as an integral part of the chain that leads her to a greater understanding of herself, of what death means and how, as individuals, we experience it.
I am not a widow, but my mother is. As a child of a widow, this book helped me understand what it is that someone who has lost a partner goes through. As a person who has known death, like so many of us, it helped me to confront my feelings on the topic in a way that is not necessarily accepted in the context of our American polite society, including the humor that can be found in what is considered the most tragic of situations. Searching for a Mustard Seed is a book this reviewer recommends to everyone, not just widows or even women, but anyone who enjoys well-written, interesting stories of other peoples' lives and experiences.
---
Grief Denied: A Vietnam Widow's Story
A Compelling Story of Healing
(reprinted with permission from Pauline Laurent)
SANTA ROSA, CA - Pauline Laurent's path dramatically illustrates the Vietnam era. Born and raised in the Midwest, she met her husband Howard Querry when she was 19. On May 10, 1968, after they were married less than a year, Howard was killed in action in the jungles of Vietnam. Laurent was 22 years old and seven months pregnant when her husband's body was escorted back to the states with the instructions, Nonviewable.
Pauline Laurent took 30 years to reconcile the death of her husband in the Vietnam War. Grief Denied - A Vietnam Widow's Story is Laurent's moving and inspiring tale of how her healing finally occurred, and how she reclaimed her life when she faced and walked through her grief.
The book was released by Catalyst For Change, Santa Rosa, CA on Veterans Day, November 11, 1999. There are an estimated 18,000 Vietnam widows. An estimated 20,000 children were left fatherless by the war. All Americans were touched by that war, whether they fought in the jungles of Vietnam, resisted in the streets of American cities or simply watched the war on television.
Pauline Laurent's book presents an insider's view of the private world of the many people personally devastated by the Vietnam War. She makes poignantly clear the price we pay when we hide, deny or delay grief. Yet, following her process and her discoveries about life, loss, and healing inspires us and allows each of us the possibility of healing, too. Judy Tatelbaum, MSW, author of The Courage to Grieve.
Grief Denied is about raising a daughter without a father,and about living with the shame of having lost the girl's father in a very unpopular war. It is about the denial, anger, addictions and rage that were the aftermath of Laurent's loss. It's also about the climate in our country, which discourages grieving for anyone who has lost a loved one, especially in the Vietnam War.
Laurent's denial and avoidance led her to escape her pain for many years through overworking, addictive relationships and eventually food. Her geographic escapes took her from the Midwest to Colorado and eventually to California, where for 13 years she sought refuge in Werner Erhard's work. With no resolution still, she continued searching, without relief. She eventually lost her ability to manage her addiction to food and soared to a weight of almost 200 pounds.
When Laurent's daughter, at age 24, announced her wedding plans, Laurent could no longer deny her grief. She began long-term therapy, Twelve-Step recovery work and a spiritual search -- all of which eventually led her to writing Grief Denied.
This book is for everyone who has ever lost someone they love. The cost is $14.95 plus $5.00 postage and handling Shipping is by Priority Mail. (California residents add $1.12 sales tax per book.) Send a check for the total amount to: Catalyst For Change, P.O. Box 5158, Santa Rosa CA 95402.
---
Terrorism: The Only Way is Through
A Child's Story
By Rosina G. Schnurr, Ph.D.
Reviewed by Laura Slap-Shelton, Psy.D.
[Order from Amazon.com]
Dedicated to the children who lived through 9-11-2001, Terrorism: The Only Way is Through, A Child's Story, is written by an experienced clinical psychologist who draws from her work with grieving and traumatized children. The concept of the phrase "The only way is through" is illustrated in vignettes of a family struggling with the death of the mother in the events of 9-11-01. Rather than turn away from or hide their strong emotions the family learns that they must face them, experience them and go on, and also that it is OK to have these strong feelings. The story begins with the day of 9-11-2001 and through the voice of a latency-aged child, follows the process of a family as they worry about the mother, realize that she is dead, and attempt to rebuild their lives. The story is well told and covers concepts of grief, posttraumatic stress syndrome, death, and changes in family routines and life in an easy to understand and easy to relate to fashion. The family events and the information they share with each other ring true and clearly describe the process of recovering from grief and trauma. The action demonstrates the concepts and the child narrator serves as a role model for children reading this book. The following passage is an example of one of the ways the experience of grief is communicated.
Grammy said that missing Mom was like standing on the shore of the ocean. The waves were like feelings.

Sometimes they would rush in to shore, knock me down and roll right over me.

I remember playing in the waves when we visited Grammy last summer.

Sometimes the waves were really strong. Jamie and I laughed a lot when we got caught in the waves.

Other times, Grammy said, the waves would be so far away from the shore that I would forget all about them. I decided that when I felt like crying, I would think about those waves. I would just let them wash right over me because I know that soon they would leave and I would feel fine again. (P.47)
The story ends with the child understanding that his mother is with him in spirit. Returning to an earlier event in the story, the family plays a football game against their relatives. By facing their trauma and grief directly they are able to move ahead in their lives.
Also, what Uncle Steve didn't know was that we had a secret player: Mom.

"Do you hear what she's saying?" Dad whispered.

Jamie and I nodded our heads.

Then we all shouted:

"THE ONLY WAY IS THROUGH!!!!"

And we won! (p.50)
This story will be useful for any child who is experiencing loss and grief, and transcends the events of 9-11 in presenting a description of the process of grieving, particularly in the first year of the loss. Parents, caregivers and therapists will find it a useful resource for helping their children and will find some healing messages in the story for themselves as well.
---
My Father's Ghost: the Return of My Old Man and Other Second Chances
By Suzy McKee Charnas. Jeremy P. Tarcher/Putnam 2002
Reviewed by Laura Slap-Shelton, Psy.D.
[Order from Amazon.com]
My Fathers Ghost: the Return of My Old Man and Other Second Chances by Suzy McKee Charnas is a wonderfully written memoir of Charnas reunion with the father who abandoned her and her family when she was 8 years old. As she takes care of him in his old age they are afforded an opportunity to establish a new relationship. Charnas writes of the relationship with her father and the difficulty of caring for an aging parent with love, respect and humor. In making use of her fathers journals she creates a living memorial which is just what her father, who wrote that he did not want people to be aware of him while he was alive but did want them to know about him after he died, had wished. Look for a longer review in GriefandRenewal.Com in coming weeks.
---
Flash of Life
By Kara L.C. Jones, Kota Press, Vashon Island, Washington, info@kotapress.com
ISBN 1-929 359-01-02, Copyright 1999, Paperback 98 pp.
Reviewed by Laura Slap-Shelton, Psy.D., 9-21-02
[Available through www.kotapress.com or
Order from Amazon.com]
In Flash of Life, Kara Jones, a poet, documents and shares her joys, anxieties and sometimes hilariously frustrating, experiences of her pregnancy, and the subsequent, horror, shock, anger, grief and beginning of healing following her son's Dakota's, still birth. These poems are so good that as a reviewer it is hard to refrain from just quoting as many of them as possible with the least amount of commentary.
Through her evocative poems which draw on the wisdom of Native Americans as well as her personal knowledge and experience, she makes clear what for many has not been clear- that the still birth of a child is the death of a child, the loss of a family member, as heart wrenching, unimaginable, and bitter as the loss of any child. In the forward to the second edition of her book, Jones writes,
The one thing that seems to be coming to the surface for all of us, is fact that we will no longer be closeted with our grief. . . . To explain, I offer this example: When your mother or father dies, are you asked to wipe them off the family tree, remove all their photos, and never mention them again? Then why should parents of stillborn children be asked to do those things after the deaths of their children?
Jones' poems capture both her inner experience and her shared experience with her husband. In the first section she describes shopping trips for underwear, girls' nights out which are no longer quite the same, and her husbands unswerving support. Her poems embrace both the intensely personal and the universal. In one poem she invokes the wisdom of the universe and is comforted by the moon, the night, and the mountains. Mother Mountain and the Great Mother offer her clues to how to manage her fears in the final stanza of "Learn the Basics" (p.25-26):
Child, She says, All you can do
is give birth, love them for
who they are, and find some way
to calm your mind during
the wee hours of the late shift.
And I ask the Great Mother,
What will I do if dont spend my time
worrying? She looks at me with
kindness and patience, answers,
If you can learn to fill your pen
with the Light of the Moon and let
Night be your sheets of paper, then you
will see a lifetime of poems fall
from your hands, putting stars
in the Night sky of the late shift.
But the still birth of Dakota turns this beautiful vision into an incredible challenge, as Jones confronts her shock and anger, her numbness and the difficulties she and her husband experience as they both grieve:
Even my husband has already
written a song about our
dead son, two weeks gone,
and I still think writing out grief
is bullshit. What does it matter?
Nothing matters, nothing is real.

("Anger I", p.46)
As time progresses Jones begins to write and heal, but her struggle continues, as there is no substitute for her son, for the future which she and her husband will not have with him: "Poems are a poor substitute/ for a baby. Only a baby/ is a good substitute for a baby/ and even at that,/ it won't be the same baby/you gave birth to the first time,/ it won't be Dakota . . ." ("Do Not Mistake it for Acceptance", pp. 49-51)
In another poem she describes her experience of dating everything from the time of Dakota's death, an experience many of us who have suffered a loss can immediately recognize. Her husband encourages her to start using a calendar again ("I've Begun to Mark Time", p.62), but in her contact with another parent who has an internet memorial site for still-born children she receives a message, "By the way, our boys/were just one day apart as/ my son was born and died on March 10th" (p. 63), and realizes that she is not alone.
In other poems she captures the numbness, emptiness, anger and beginning of acceptance of her grief, as in "At the Shore" (p.69):
When I wasn't looking
my son became the ocean shore,
he became that sound of rocks,
shuffling around
surfing against one another
clanking like diamonds
being polished from their rough,
he became the ebb and flow
of grief, . . .
Jones ends her book of poetry with a wonderful prose description of a very real, healing dream, which brings her lasting comfort and hope. Through Flash of Life Jones reaches out to us all with her message of shared loss, comfort and hope. And, in case this is not enough, Jones has included a list of resources for the reader at the end of the book, and also has created with her husband both a website and publishing company to help others express their grief and share their path of healing.
---
Treasures of Darkness
By Ken Hekman, Writers Club Press, New York 2001, 125 pp.
Reviewed by Laura Slap-Shelton, Psy.D.
10-21-2001
[Order from Amazon.com]
Ken Hekman was living the American dream: great marriage, healthy teenage children, exciting, successful career, vacations, etc. until one horrific winter night when the police came to his door with the worst news a parent can ever hear. His daughter, driving at the speed limit, seat belt on, with no alcohol or drugs, had hit an invisible spot of ice, crashed into an oncoming car, and been killed, all in an instant.
Hekman's quest to know how to endure, go on living, and make sense of such a tragic loss forms the background for the poems and writings that he shares in his heartfelt Treasures of Darkness. The title of his book is taken from a quote from the Bible (Isaiah 45:3): "I will give you the treasures of the darkness, riches stored in secret places, so that you will know that I am the Lord, the God of Israel, who summons you by name." Hekman identifies himself as a practicing Christian, from the outset of his book, and his musings and poems often include thoughts about God and the religion, as well as his own personal experience of grief.
Hekman opens his book by stating that "Grief can be a very dangerous place." But that it also ". . . can bear extraordinary rewards." (p.xi) He writes, "There is a freedom that comes from facing death head on unlike any other freedom known to man. There are insights and perspectives about ourselves, about life, about God, and about relationships that jump off the page in the book of grief." (p.xi)
His book is divided into four sections which follow the natural path of healing from grief: experiencing fear of death, experiencing fear of living, experiencing a lack of fear of death, experiencing a lack of fear of living. In the first section Hekman introduces his family and fortunate lifestyle, and honestly describes his false sense of safety in the context of his life.
In the second section he addresses his initial feelings and experiences in the period immediately following his daughter's death. In one poem he highlights his new experience of morning, identifying himself as living in "the shadows now." (p.19) In another poem, Forever Sad, he writes, "I shall be forever sad/And mourn the loss of love I had, / For though I try, I cannot hide/ The anguish that I feel inside." (p.27)
The third section of Hekman's book addresses the process of healing. The first poem of this section points to the need to allow one's feelings full play in order to heal:
Tears
Do not be ashamed of choosing to weep,
For tears are the blood of the soul.
It's sadder by far to see people keep
Their feelings from making them whole. (p.44)
Then next poem on a more personal note begins:
I Cry to the Sky
I cry to the sky as the day fades to night,
The hesitant tears finally give up their fight,
Remembering the daughter who drew me outdoors
With hiking and biking and camps by the shores. . . (p.45)
His poems to his daughter are among the most moving and touching of the poems he writes. In one titled, Forever Seventeen, he writes wistfully, "Come visit me by dream tonight." and later in the same poem, "Let's take a walk around the block, /resume our simple idle talk/ of college plans and marriage hope." (p.47)
In the final section of the book Hekman finds some resolution for his questions and some peace in his life. He finds a deeper understanding of God, which involves appreciating the mystery of God without expecting to be protected from it, and without expecting to understand it fully in this life. This section opens with a poem, The Rising Tide, which asserts the return of balance to life, a balance which now embraces both the experience of loss and return. For Hekman, the ultimate meaning of his experience to date is to place him in a new relationship with God, and with Hekman's own role in life. He concludes that nothing is more important than "the pursuit of God."
In his afterward Hekman states that he is still grieving but that his understanding of life has profoundly deepened. He writes, ". . . Carla's death has taught me that life isn't what I thought it to be. Life is certainly valuable, but not in the same sense as it once was. I embrace life, but I would embrace death just as fully if it were to be in my path. (p.109); and similarly, ". . . I also have a new sense of the purposes of life. I am not my own. I never have been, although my confession of this truth has never been more true than it is now . . . Now I accept each day as a gift of God, and I'm ready to let him have his way with me, day by day." (p.109)
Hekman is an international health care consultant by profession. His journey into grief has led him into poetry as well. While his poems are sometimes not as well crafted as one might wish, they do convey his emotions and sense of loss in a way that is easily understood. In this shared journey Hekman's documentation of his path allows us to walk with him through the dark cavern of grief. Through his journey we gain a glimpse of a possible resolution to questions raised in grief's wake, and a sense of what it might mean to embrace life in its true fullness. Given the course of the recent national and international events, such lessons could not be more timely.
---
Book Announcement: Beyond Coping-Widows Reinventing Their Lives
I am writing to let you know about a new book recently published by Pear Press entitled "Beyond Coping - Widows Reinventing Their Lives". The book is an anthology of stories collected by Molly Hurd and Margie Macdonald and written by ordinary women of all ages across Canada who have experienced the loss of their spouse. They have been through the process of grieving, but have gone on to reinvent themselves in some fashion. The process of reinvention takes many forms - for some it involves new careers or achievements, for others it can be as simple as overcoming old fears or taking small steps towards independence. These stories describe many struggles, both internal and external, but the ultimate message is one of inspiration and hope.
For information about ordering and to read reviews and descriptions of the book, please go to our website at www.pearpress.com.
---
Waking to Tears: Losing a Loved One to Violence
Compiled by Traci Bieber Nelson, Writers Club Press, New York 2001, pp.143
Reviewed by Laura Slap-Shelton, Psy.D.
7-27-2001
[Order from Amazon.com]
Waking to Tears: Losing a Loved One to Violence brings into direct focus the devastating effects of such a loss. Traci Bieber Nelson, who lost both of her parents to separate violent deaths, has compiled the unedited writings of those who have lost parents, children, spouses and others through murder. The writings are incredibly moving and challenging to read in their direct revelation of pain and anger. They serve her intended purpose to let others who have had such losses know they are not alone, and to make all of us aware of violence's terrible cost to society.
The writings are organized alphabetically by state and author. Some of the writers have chosen to remain anonymous. The anger, pain, loss, and ongoing void in the lives of the writers brought about by the senseless, meaningless violence of others are highlighted throughout the varied essays and poems.
In one essay, "You Should Be Getting On WITH Your Life", Debra O'Brien writes, " 'You should be getting on with your life', says a friend of mine. I am always amazed by that statement. When people say that to me I want to SCREAM at them, but I don't because I realize they do not say it to upset me... What is it they really want from me? For me to be the same person as I was before my son, Devin, was murdered? NO that will never happen. Part of me was murdered with him and I will never be the same. Shot in the head three times is not something you ever 'get over' or 'forget'! (p.53)"
There are a number of poems and memories in tribute to the people who have been murdered. Some of the writers also call for a change in the way our society handles the rights of victims and their families, and for changes in our society's seemingly endless tolerance for guns and reckless behaviors. The unfailing love and continuing connection to those who have died is one of the major themes which unites all of the writings. The concluding stanza to a poem by Deb in Florida captures this well, "I will carry you with me/Until my life on earth ends/When we are together in heaven/Where my heart finally mends. (p.37)"
By making the personal cost of violence clear, Waking to Tears makes an impassioned, eloquent plea for ending the violence endemic to our society. Bieber Nelson writes, "We live in a disposable fast paced society. Finding the quick and easiest way through life. Does this mean we take others lives when we are not happy? Does this mean we rob, injure and kill someone because we don't like his or her beliefs, race, religion, sexuality, opinions or decisions? Does this mean when we are not happy with ourselves we take our own life or kill others? . . . There is no clear answer to violence but changes must be made. Violence can strike no matter where you live, no matter what race, religion, occupation or social status- violence knows no boundaries.(pp.xi-xii)"
Waking To Tears is vital reading for all who have lost a loved one to violence and for all who have not.
---
Margaret Owen's book, A World of Widows, documents with fact and anecdote the harrowing existence of millions of widows in developing countries. Ms. Owen is a lawyer specializing in the legal aspects of women in developing countries. However, it was not until she became a widow that she became aware of the significance of the plight of widows in developing countries. Living in London, she experienced the difficulties of widowhood that women in Western cultures experience. She was not aware of the degree to which Western widows are protected by Western law and human rights protections. She begins her forward:
"I had been widowed only a few months and was about to leave for the USA to teach a course on 'Women, Law, Development and Health' when a widowed Malawian friend, Miriam, came to stay with me. Almost the first question she asked as she looked around my livingroom, was whether my husband had living brothers. When I told her that he did, her expression changed to astonishment. "You mean that they let you stay in this house and allowed you to keep all these things?"
This story serves as a fitting introduction and foreshadowing of the information to be revealed in her book. Owen describes with scholarly detail the humiliating and dangerous rituals Third World widows undergo which serves as a prelude of a life of poverty, loneliness, and servitude which will almost inevitably follow. She details the laws and the tribal and local customs which interact in such a way that widows remain unprotected from violence of every sort. She discusses the inheritance laws and customs that serve to disenfranchise the widow and her children from the entirety of her possessions. Even when the husband has made an effort through a will, and other actions to protect his wife and family from being robbed after his death, these efforts are ignored, sometimes through blatant destruction of records and or simply through violence and theft. Owen highlights the deleterious effect of these brutal customs on children. Once a widow is stripped of all her belongings and deprived of an ability to establish even a meager income via farming or another simple form of subsistence, she is unable to afford to send her children to school, as they become much needed labor. She is also unable to prevent them from being taken by her in laws, as well as unable to protect them once they have been taken away.
Refugee widows are also identified in this book, as representing a special case of widowhood. These women, having fled their homes in order to survive, are left without any traditional source of support. They have often been psychologically brutalized if not physically. Owen calls on refugee aide groups to develop a more thorough understanding of the needs of these women so that programs can appropriately support them.
Throughout the book, Owen reports on groups and organizations of widows in African countries and in India which seek to legally and economically empower themselves and thus bring about better lives for themselves and their children, as well as add a very important new voice to the cause of women's rights and human rights. Owen's own group, Empowering Widows in Development seeks to provide advocacy and lobbying on behalf of widows.
A World of Widows is strongly recommended reading for anyone seeking to broaden their understanding of the status of widows and of women in the world.
---
Healing Grief: Reclaiming Life After Any Loss

by James Van Praagh. Dutton, New York, New York, 2000. pp. 286
ISBN: 0525945407
Reviewed by Laura Slap-Shelton, Psy.D.
11-7-2000
[Order from Amazon.com]
Many people, myself included, experience odd happenings and events following the death of a loved one. Lights go on and off for no reason, household items move around inexplicably, presences of the dead are felt, and sometimes seen. In my case, on the night of my first husband's death, the music tape that we always played for our 1 year old daughter played continuously throughout the night on a tape recorder which did not have an automatic rewind system, and was found in complete tangles the next morning. No one in the house that night had the heart or perhaps the courage to stop it from playing. I did not have a spiritual frame work with which to process these experiences, although I had had some other experiences of a similar type. After a number of similar experiences I finally threw up my hands and admitted that there was a lot more to life and the universe than I had previously admitted or understood. My life opened in a new way, and I realized that my husband's death had indeed been a very unusual type of gift. In my interviews with other widows I found that others were also struggling to put together the meaning of these 'supernatural' encounters.
James Van Praagh's book Healing Grief: Reclaiming Life After Any Loss, provides the spiritual framework which encompasses these unusual experiences or encounters with the spirit world. In Healing Grief Van Praagh combines practical guidelines for coping with grief with detailed descriptions of communications between the living and their lost loved ones in order to highlight the rich opportunities for spiritual growth that losses of all kinds bring. While the practical guidelines may be found in many good books on coping with grief, his depictions of the communication between the bereaved and the person who has died are fascinating and unique. The meaning and comfort that the people whom he reads for derive from their encounters with their lost ones are also movingly communicated by both Van Praagh and in first hand accounts by his clients.
Van Praagh writes from a spiritual philosophy, which has a basic tenant that, "When the body is shed and we cross over to the spirit world, we open the door to eternal life." The experiences we have while on earth are predetermined lessons chosen before we came to earth. There is essentially no such thing as death in this philosophy. However, on the human side of the equation, there is still loss, and loss is a powerful spiritual teacher.
Van Praagh presents readings with people who have lost husbands to murder, who have lost husbands after long and beautiful marriages, with parents who have lost a child, with children who have or about to loose a parent, and with those who have lost pets. The details communicated by those in the spirit world are impressive and in one case even allow the apprehension of a murderer.
The message that all loss presents an opportunity for spiritual growth was most movingly written about in the chapter on the death of children, to this writer's mind, the most difficult type of loss to experience. Van Praagh allowed the parents to speak in this chapter. One mother writes of her experience of connecting with her son's spirit: "Those healing words from our son through James gave Eric and me a sense of calm and renewal. Our lives were forever changed. We were able to view what formerly looked like problems as opportunities for spiritual development. My husband began to approach his medical practice and all of his life in a more spiritual way. We are now able to see Ian's passing as a beautiful gift. By learning not to fear death, we no longer fear life." pp.115.
Van Praagh stresses that grief is the natural response to loss, and that our emotional responses to grief are natural and need to be honored and understood so that growth can occur. He encourages the experiencing and working through of the emotions of loss and grief, and respects the importance of honestly processing all of the emotions that arise at the time of loss. At the end of the book he provides a brief section on reclaiming life after death and includes some spiritual exercises and meditations.
Healing Grief will bring comfort and encouragement to those who are coping with bereavement and to those who are concerned with spiritual growth and the experience of loss. Although it may not suit the hard core 'non-believer', most others will be well served by its healthy balance of earthly self-care and spiritual awareness.
return to top
return to recent reviews
return to articles main page