A WORD FROM Cherie Blair
President, The Loomba Foundation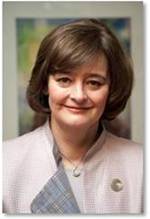 An invisible humanitarian catastrophe, which condemns more than 750 million women and their children to poverty, degradation, slavery, and in many cases death, hides in the shadows of the world. There are no star-studded telethons to raise money and awareness on their behalf. There is no enforcement of local laws--where they exist-- that defend their rights. Today we celebrate a signal event—the inaugural UN International Widows Day. Today we, the international community, stand up for this marginalised population.
These women are widows, and in many places in the world the tragedy of losing a spouse--often to disease and war--is compounded by a dehumanizing tradition of stripping them of their worth, their home and possessions, and their lives. A hideous conspiracy between widows' families and authorities, abetted by international neglect, has allowed this practice to persist and become one of the greatest, preventable threats to women the world has ever seen.
When Raj Loomba asked me six years ago to launch International Widows Day in London, it had become clear to us that the injustices faced by widows were by no means confined to India, the initial focus of the Loomba Foundation's work. As our research study confirms, widows face serious hardships and grave injustice in many parts of the world.
Today the Loomba Foundation trains and helps widows in South Asia and across Africa and provides education to their children.
Through UN International Widows Day, we will raise aswareness about the impact this issue has, not only on the women and children whose lives are blighted, but on the UN's global efforts to achieve gender equality, eradicate proverty and achieve the Millenium Development Goals.
return to top
return to widows international main page